Cataract Surgery
Cataract surgery is indicated when the decrease in your vision affects you on a daily basis making it difficult for you to perform your daily activities. Cataract surgery has evolved into a delicate, sophisticated, and gentle procedure making for a quick recovery.
The techniques, instruments, and lenses used by our cataract surgeons at Denver Eye Surgeons are cutting edge. We like to provide our patients with the same technology that we would offer to our own family member.
Your surgeons at Denver Eye Surgeons have performed thousands of cataract surgeries. We have been Denver's leading center for over 40 years. We feel excited to serve our community in such a positive manner.
If you are someone suffering cataracts or have a family member that is suffering from cataracts and you are helping them do the research, we encourage you to carefully review the pages of the cataract section on this ophthalmology website. The cataract surgeons at Denver Eye Surgeons are not only specialists in their field but also use the most up to date techniques practiced in modern day cataract surgery.
Micro-Incision No Stitch, No Patch Cataract Surgery
Denver Cataract Surgery Specialists
Prior to the procedure, you will undergo some testing to determine which IOL prescription will work best for you and your optical system. The actual surgical procedure usually takes less than 15 minutes. The eye is numbed with anesthetic drops. A very small incision is created in the cornea. Small instruments are placed through the dilated pupil to break up the cataract into many small pieces by ultrasonic vibrations. These pieces are suctioned out. This process is called phacoemulsification. Next, a folded IOL is inserted into the eye through the same small incision. This IOL is then positioned into the eye as it unfolds. This procedure is known as small incision, clear cornea, no-stitch, phacoemulsification cataract surgery.

Prior to your procedure, we will help you decide which IOL will work best for you. Your options include a standard monofocal IOL which is covered by your insurance as part of your cataract surgery. Patients that want more freedom from glasses have the option to choose one of these elective premium IOLs: Toric, Restor, Tecnis MF, or the Crystalens. Our preoperative discussions with you will help you decide what will work best for you. Please feel free to review our premium lens implant options:
AcrySof ® IQ ReSTOR ® Multifocal IOL
TECNIS® lens Multifocal IOL

Crystalens® Accomodating IOL

ACRYSOF® IQ Toric aspheric IOL
Understanding Intraocular Lenses
The intraocular lens is a foldable lens that slides through a tube like a fruit roll-up and unfolds in the capsular bag. The surgeon may center the new lens with the lens capsule if necessary. Once the lens is centered, the surgery is complete. In most cases no stitches are required to seal the incision due specifically to the 3 mm size. This is why it is called micro-surgery by many eye doctors.
What Happens After Surgery?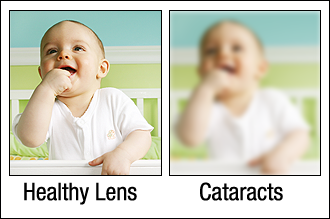 Recovery from cataract surgery is generally very quick. Most patients obtain better vision within the first few days of the procedure. Itching, light sensitivity and mild discomfort are normal after cataract surgery for the first 24 hours.
For a few days after surgery, your doctor will ask you to use eye drops to help healing and decrease the risk of infection. You will be provided with clear postoperative instructions.
Patients can expect to go back to work within a couple of days following surgery. You will be asked to use a protective shield over your eye at night time for about 1 week to avoid accidental eye rubbing.
You will have several postoperative appointments. Typically, they are done at the 1 day, 1 week, and 3 week interval. In most cases, we will be able to provide you with a new prescription for glasses at the 3 week appointment.
In most cases, healing will be complete within eight weeks. Your doctor will schedule exams to check on your progress. Each person heals differently so it is important to discuss the cataract surgery recovery with your eye doctor.
Frequently Asked Cataract Surgery Questions
Q: Can I have both eyes done at the same time?

A: No, we make sure your first eye does well before we perform surgery on your second eye. Typically, the surgeries are done 1-2 weeks apart.
Q: What is the recovery period?

A: Recovery is relatively quick but everyone heals at a different pace. Many patients do get better vision after the first 24-28 hours. Complete recovery occurs within a month for most patients.
Did You Know?
More than three million cataract surgeries are performed in the United States each year. Cataract surgery is considered one of the safest and most effective of all medical procedures.
Cataract surgery is a highly successful surgery in helping restore vision. Cataract surgery involves replacing your natural cloudy lens with a clear intraocular lens (IOL). An IOL is an artificial lens that is implanted inside your eye during cataract surgery. Our surgeons are trained and experienced in all the IOL choices including premium IOLs. If you are located in the Denver, Lakewood and Colorado area and are interested in cataract surgery and IOLs, please contact us today!

At Denver Eye Surgeons, we are pleased to offer cataract surgery at our onsite, outpatient Ambulatory Surgical Center (ASC). Our surgical center offers patients a comfortable, friendly and supportive environment for undergoing cataract removal.

For more information, please contact our office and one of our staff members will be happy to assist you in setting up a personalized cataract evaluation.


Denver Eye Surgeons' team is like none other. Unlike most LASIK facilities, our surgeons work with you every step of the way. From the evaluation to your post operation visits your surgeon is at your side to ensure your surgery is a success.

Our facility houses a state-of-the-art, outpatient Ambulatory Surgical Center (ASC) in Lakewood, Colorado, with the latest equipment and tools necessary to achieve optimal outcomes. The ASC is a comfortable, friendly and supportive environment for undergoing ophthalmic surgery.

Take our Free LASIK Self-Evaluation to determine if you are qualified for LASIK.


Denver LASIK, Cataract Surgery and Glaucoma Specialists

The doctors and surgeons of Denver Eye Surgeons provide a wide range of services and the highest quality care. They have helped thousands of patients in the Denver area to improve or restore their vision with LASIK Surgery, cataract surgery or glaucoma treatment.


Welcome to the Denver Eye Surgeons media center! Please feel free to watch our collection of eye care videos designed to help you get a better understanding of vision correction and the vision correction procedures that may be the best option for your personal best vision. If at any moment you have a question please feel free to contact us through our ophthalmology website forms.